Introduction - 1. Unity Basics
1.1 Opening Unity and Setting up the windows/panels
ꚙ Open the Unity Hub > Unity 2020.3.X LTS
ꚙ Click on the project to open it
NOTE: If the project is not on the list: 1. Click on "Open" and browse to the location of the project; 2. Click "Open" to add it to the list
ꚙ Once Unity opens the project, it should look like this: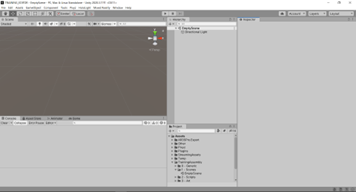 Figure 1 Empty Unity3D Project
NOTE: If the different windows are not exactly positioned as in the picture, you can change them by dragging them around as used to browser tabs.
ꚙ Open the Preparation Window. Within the ribbon, click on HoloLight and Preparation Window to open the custom window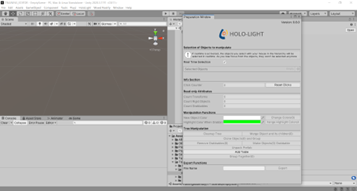 Figure 2 Preparation Window
ꚙ
Click and drag the Preparation Window and attach it on the right side next to the Inspector Panel
ꚙ Rotate Camera
Right-click and move mouse
ꚙ Move Camerar
Middle-click and move mouse
ꚙ Move Parts
Click on them in the hierarchy or in the scene, and move them with the arrows.
ꚙ Rotate Parts
Activate the Rotate Tool and select the parts you want to rotate.

Figure 3 Rotate Objects
NOTE: As shown in Figure 4 Parts can also be moved and rotated via the Inspector panel.


Figure 4 Rotation via Inspector panel